Intactivism: Week in Review July 16, 2011
by Tally on July 16, 2011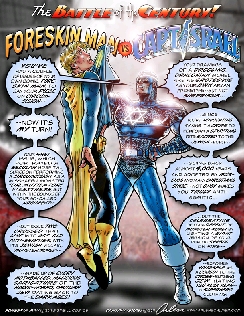 Parents, protect your babies. Support intactivism. The following list includes blogs, articles, and websites of interest to Intactivists that were published in the past week. This is a running tally of the ones I found interesting.
In less than a month, the Genital Autonomy Conference will be held in the United Kingdom. The conference is scheduled from August 31 to September 1, 2011, at Keele University, Staffordshire, UK. The two day conference will consider the legal and human rights issues surrounding non-therapeutic genital surgery on male, female, and intersex children.

Monday, July 11, 2011
HuffPost Religion: The Other Side Of The Circumcision Debate
Ronald Goldman is executive director of the Jewish Circumcision Resource Center and author of "Questioning Circumcision: A Jewish Perspective" and "Circumcision: The Hidden Trauma." The Jewish Circumcision Resource Center represents Jews around the world who question ritual circumcision. Some mothers have revealed great distress about permitting and watching the circumcision of their sons and have regretted their decision for years. "I will go to my grave hearing that horrible wail," one mother says.
LA Times: The debate over circumcising baby boys
The Los Angeles Times presents both sides of the infant circumcision debate. Georganne Chapin is the founding executive director of Intact America and the founder of Hudson Center for Health Equity & Quality, a nonprofit organization devoted to improving access to healthcare. She says that genital cutting of infant boys is a human rights issue. "All people, male as well as female, are entitled to bodily integrity, and nobody — for any reason — has the right to cut off part of another person's body when that person is too young to understand and to consent." On the other side is Daniel Halperin, a lecturer who recites many of the myths that have been debunked. He concludes, "I'm not interested in pushing circumcision but in making the service readily available to everybody who wants it." Hmm. I do not think the baby boy wants to be circumcised.

Tuesday, July 12, 2011
The Sacramento Bee: Viewpoints: Measure rightly challenges need for circumcision
The opinion piece provides the many reasons why the San Francisco proposed ballot measure to restrict male infant circumcisions is a good thing to do. First, the harms of circumcision outweight any benefits. The urinary tract infection claims are specious. Circumcision is big business. Circumcision is elective surgery and circumcision requires informed consent. Parental rights are not absolute. Religious dogma is ot immutable.
Fantastic Foreskin Blog: Attack on Foreskin Man
A new comic cover: The Battle of the Century: Foreskin Man vs. Capt. Israel. The comic cover was reported at Bleeding Cool, a comic news site. The comic cover is a response to the Foreskin Man comics. It is a cover done by Arlen Schumer, a comics historian, comic book-style illustrator, and graphic designer.
Intactivist Blog: Letter to Nurse Educators from Rosemary Romberg
A letter to nurse educators seeking to inform them about male infant circumcision. The letter includes facts like the current 32.5% circumcision rate in the US. The letter also includes information on the Royal Dutch Medical Association (KNMG) policy statement that states that the circumcision of underage boys should be stopped.
Intactivist Blog: What made you become an intactivist?
A short piece describing why the author became an intactivist, one who fights for the genital integrity of all children. When she was researching circumcision for the birth of her next baby, she learned that male circumcision removes part of the penis. That was all she needed to know to be against male infant circumcision.
YouTube Bonobo3D: Denman Street Car Free Day - Foreskin Demos

At Vancouver's Car Free Day Glen Callender and Jennifer Campagnolo bring the Canadian Foreskin Awareness Project (CAN-FAP) to a curious public. The video also includes interviews of members of the public discussing the issues around genital integrity and human rights.
The Jewish Week: Alternative To Circumcision
A Jewish mother explains why she did not circumcise her son. "For me, deciding not to circumcise wasn't about "doing what's in vogue" but about doing what I felt was in my son's best interest. We've learned a good deal about the perception and effect of pain on the developing newborn, the biologic function of the foreskin, and the often unspoken complications that accompany circumcision and frequently go unrealized until sexual maturity. This new information should not be ignored. Pursuit of the truth, wherever it takes one, and doing the right thing over the objections of others, has never gone out of style. Indeed, it's been an integral part of Jewish culture and tradition dating to the days of Solomon and before."

Wednesday, July 13, 2011
Beyond the Bris: Brit Shalom: An Alternative Naming Ceremony
"The bris (Yiddish) or brit (Hebrew) is nothing more than a covenantal naming ceremony for baby Jewish boys. Traditionally done on the eighth day of life, the baby is given his Jewish or Hebrew name, he is ushered into the community of Judaism, and his foreskin is removed. Nowadays, we have similar naming ceremonies for baby girls, minus the genital cutting. In Hebrew, the term Brit Milah refers to ritual circumcision. Why not eliminate the cutting, and peacefully give baby boys a name which welcomes them into Judaism? The term Brit Shalom, "Covenant of Peace" is used to denote an alternative non-cutting naming ceremony. Other terms include Brit b'li Milah (Covenant without Cutting), Brit Chayim (Covenant of Life) and Brit Ben (Covenant for a Boy). Brit Bat being the term for a girl's naming ceremony."
Male Circumcision and HIV: IAS 2011: Thank you to all the donors
Intact America is sending representatives to the International AIDS Society conference in Rome, Italy.

Thursday, July 14, 2011
Babies, Boobs, and Blasphemy: One Pro-Circ Argument I Actually Agree With
Many say that female genital mutilation is not at all comparable to male genital cutting. They may be correct. One type of female genital cutting cuts a tiny speck from the female genitals, typically from a baby girl in the hosptial. Such female genital cutting is much less severe than male circumcision. But doing that to a female is illegal in the United States while amputating the foreskin from an infant baby boy is legal. Should this less damaging form of female genital cutting be made legal to be the equal of male circumcision laws?

Friday, July 15, 2011
Salem-News: FORESKINMAN: Unconsciously Anti-Jew
A third issue of Foreskin Man has been released. The first issue depicts a doctor attempting to perform an infant circumcision. The second issue of Foreskin Man depicts a Mohel attempting to perform an infant circumcision. The latest issue depicts attempted female and male genital cuttings in Africa. Genital integrity is a world issue.
Gizmodo: You Can Get a New Penis Made from Your Thigh if You Misplace Yours
Penis cut off? This article describes how to replace it. I thought I had it bad by being circumcised and having to restore my foreskin. The guy that had his penis cut off by his upset wife really has it bad.

Saturday, July 16, 2011
ERIC: End Routine Infant Circumcision: Circumcised To Fit In? Nonsense!
Many circumcise their son because they are afraid their son will be ridiculed in the locker room. Hogwash! This article debunks the myth that foreskin is ridiculed in the locker room. As more and more boys remain intact and whole, it is the circumcised boys who will be different. "Intact penises are natural; do NOT let someone take a way an important part of your son's penis."
Intact America: Intact America urges policy makers to halt male circumcision rollout, calling the plan exorbitant, dangerous, and unethical
Examiner: Stop UN & WHO 'circumcision prevents HIV' lie says rights group
Digital Journal: Human Rights Group Calls Upon UNAIDS and the World Health Organization to Tell the Truth: Circumcision Does Not Prevent HIV
PR Web: Human Rights Group Calls Upon UNAIDS and the World Health Organization to Tell the Truth: Circumcision Does Not Prevent HIV
Keeping men intact is the specialty of human rights group Intact America (IA). Intact America is heading to the International AIDS Society (IAS) 2011 conference in Rome, Italy, this weekend. Urging public support to "spread the message that circumcision does not prevent AIDS," Intact America has a petition aimed at UNAIDS and the WHO, demanding they stop mass circumcisions, "a dangerous distraction in the fight against HIV."

Tags: