Intact penises are not ugly
by Meghan B. on March 9, 2011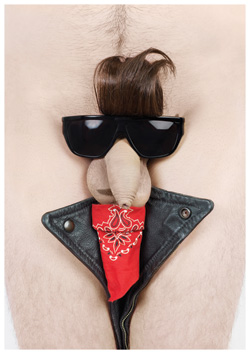 I hate, hate, HATE the arguments, "My son needs to be circumcised because girls will make fun of him if he isn't" or "It looks gross." These statements just highlight the fact that circumcision is a 100% cosmetic procedure, something that is done to make a boy conform to the aesthetic standards of his parents. Ok, for those of you who have never seen an intact, erect adult penis - here ya go. Now, was that so scary? It pretty much looks like an intact circumcised penis - or does it?
Circumcision removes healthy, important skin. It makes sense that this procedure would have some undesirable side effects. The problem is, since circumcision is so widespread, these problems seem NORMAL and are seen as acceptable! "I was circumcised and I was fine! But, my penis curves and my pubic hair extends onto the shaft. And it is two different colors. But that's all normal and unrelated." Scarring caused by the surgery is hardly noticeable to the average person, but once you realize that penises are not meant to look that way - the results are glaringly obvious.
Warning: This post contains links to pictures of circumcised penises. The images may be startling. But, if you have spent any amount of time with a circumcised penis, these images might seem normal to you.
Most of these problems are not evident until a man reaches puberty and his penis begins to fill out. An infant's "successful" circumcision soon becomes someone's nightmare. Too much skin is usually removed, resulting in tight and often downright painful erections. In order for a penis to work properly during sex, it needs to have some loose skin to make the gliding motions possible. Many circumcised men are left with no extra skin, but they don't know any better and don't realize what has been taken away from them. Dried out skin is also common - the foreskin keeps the head of the penis moist (think the inside of your vagina, ladies) and without it the skin dries and becomes thick and calloused. It's all "normal" for a circumcised penis, unfortunately.
Now, I love my circumcised husband. I love every single part of him and to me, he is perfect. All of his physical flaws - even the circumcision related ones that he had no control of - make him that much more beautiful to me. That being said, would I have loved to have gotten him in his natural state instead? Honestly, my answer is yes. I just feel so incredibly sad when I see what his own mother allowed some doctor to do to his perfect body. I wish that I could go back in time, before I was even born, and tell her "I'm going to marry your son someday. The penis that he is born with will be fine, I promise that I won't think that it's ugly. Don't harm it on my behalf, it's not what either of us will want." But the best that we can do is leave our baby intact (check!) and spread the word (check!) so that maybe other parents will be able to look beyond the "ugly penis" myth.
The above post is by burpingmeg, a guest blogger who is an intactivist and fights for genital integrity. Her The only way out is through Tumblr blog is an intactivist blog where she can speak for those without a voice. When infants are circumcised they can only scream in pain and terror. They cannot tell their parents that circumcision hurts.
I thank burpingmeg for sharing her thoughts on the Restoring Tally blog. She confirms that the natural, intact penis is something that should be looked upon with favor. ~ Tally
Related Links:
Credits: